A good night's sleep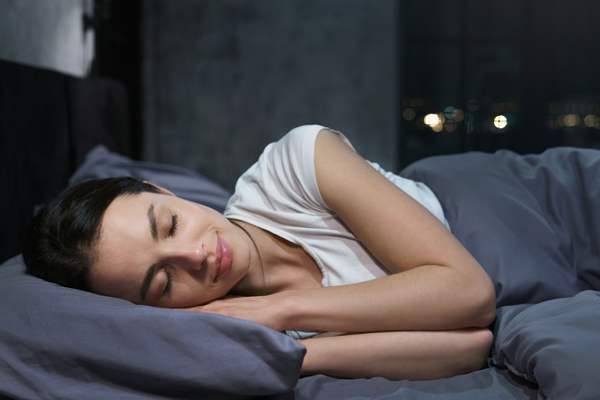 A good night's sleep involves getting both the right quantity and the right quality of sleep to meet your needs. Since we're all spending much of our life in bed, it makes sense to choose one that will support your body and help you avoid stiffness, aches and pains, and back problems in later life.
Your bed
Physios know that your sleep posture affects your spinal health and well-being. So the APA has tested and endorsed a range of beds as the recommended sleep system for the maintenance of correct spinal alignment. These beds are built the way your back is built, and are designed to help support the natural shape of your spine while you sleep. The sleep system provides support and comfort to the five zones of the human anatomy to help promote restfulness and overall well being. And your children have not been forgotten; there is a range of beds just for them, too. The APA recognises that the needs of this age group are different and have endorsed a range of beds which provide contouring support for the entire body, helping children to maintain natural spinal alignment while sleeping.
Your pillow
Physios also recognise that the pillow you use plays a large part in how well you sleep and how well your body responds to the sleep. A pillow should support your neck and spine (as if you are in correct standing posture) whilst sleeping. This means creating a straight line from your neck to the base of your spine. The pillow should mould to the shape of your head and neck to provide correct spinal alignment. Pillows should be replaced when they no longer provide adequate support for your head and neck.
So the APA has also endorsed a range of pillows, tested by physiotherapists, to ensure that correct neck posture is maintained. The APA endorsed range of pillows ensures that correct sleeping posture, which maintains spinal alignment and helps reduce neck pain caused by an incorrect sleeping position during rest periods, is a possibility for all Australians.
The ABC of beds
These clues will help you decide if your bed needs to be replaced.
Age: Studies show that a mattress and base provide optimum service for about 8–10 years of nightly use.
Beauty: Is your mattress marred by soils, stains, tears or uneven surfaces and sagging spots? Poor appearance generally indicates poor performance.
Comfort: Lie down and concentrate on the feel of your mattress. If you find it difficult to gauge its comfort level, visit a local bedding or department store to see how a new, good-quality bed feels. Advances in bedding technology have made today's beds more comfortable and supportive than new beds were a decade ago.
Top tips to test drive a bed
If you're ready to replace your mattress:
1. Pretend the mattress is in your bedroom. Don't just sit on the bed. Lie down. Wear comfortable clothes and shoes you can easily slip off. Lie down in your normal sleep position, close your eyes, and shut out the world. Don't let the salesperson rush you, and don't feel self-conscious. Relax, and give yourself a few minutes on each bed before moving on.
2. Look 'under the hood'. What's inside the mattress counts. Your retailer may have a cutaway model. If not, ask about the construction. On the outside, look for signs of quality: fine tailoring, superior fabrics, and a surface that looks and feels plush.
3. Bigger is better. Choose a bed about 15 centimetres longer than you are. If you sleep with a partner, don't settle for anything smaller than queen size. Sleepers turn 40–60 times a night and you need room to move about freely so you don't wake.
4. Buy the best you can afford. Your bed is an investment that should last longer than your car, and you'll be spending much more time in bed than behind the wheel in the next decade. How comfortable you are in bed dramatically affects the quality of your sleep and, ultimately, the quality of your life.