Pilates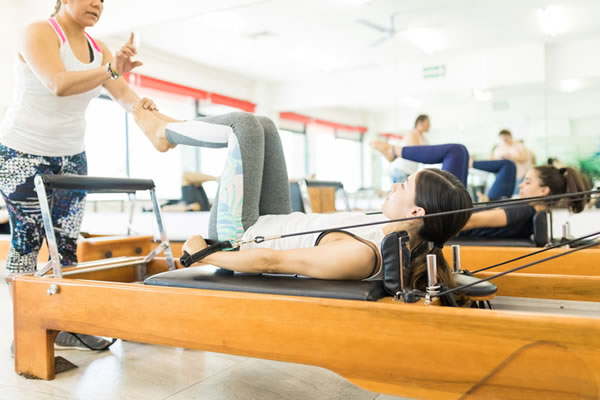 Pilates is a full-body exercise system that emphasizes core stability, body alignment and awareness. Clients perform strength, flexibility and range of motion exercises on specially designed equipment.
Clinical Pilates is the same system implemented by a qualified physiotherapist to specifically rehabilitate an injury or prevent aggravation of an existing injury.
At Cranbourne Physiotherapy, we are aptly able to cater for all people with or without injury who wish to improve their dynamic health with Clinical Pilates.
What are the benefits of Clinical Pilates?
Improves core stability
Improves postural and body awareness
Abdominal toning and strengthening
Increases flexibility and muscle tone
Decreases lower back pain
Decreases neck and shoulder pain
Post-natal toning
Relieves tension and fatigue
Injury Prevention
Is Pilates for me?
Pilates may be performed by people of any age or fitness level. In the past, only high-level athletes and dancers were trained in Pilates but now the exercise regime enjoys enormous popularity with the general population who want to be fitter, stronger, better.
How do I start?
Book Clinical Pilates sessions with our Clinical Pilates physiotherapist to develop your individual Pilates workout in our gymnasium. If you have an injury, your physiotherapist can assess and treat the condition incorporating Pilates as a treatment tool.
Once you and your physiotherapist are comfortable with you performing your Clinical Pilates Program on your own, you may independently use our Pilates and gymnasium facilities on a sessional basis.
Clinical Pilates Fees
A Clinical Pilates session with a Physiotherapist experienced in Clinical Pilates is charged at the normal consultation rate of $75.
Clinical Pilates sessions attract rebates with Private Health Funds under the extras table.
Make an Appointment