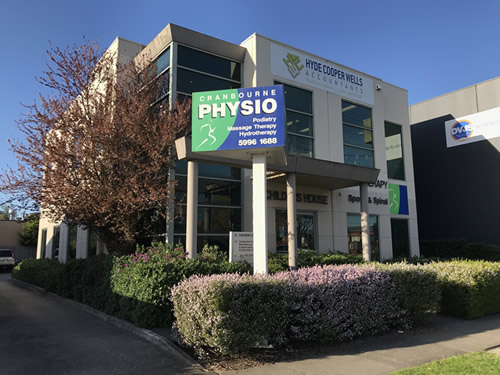 About Cranbourne Physio
If you want to feel stronger, move freer and live better, excellent health care is the key. At Cranbourne Physiotherapy, we're all about excellent health care and living better.
Physiotherapy, Hydrotherapy, Pilates, Podiatry, Psychology, Nutrition and Massage are all available here in the heart of Cranbourne at Childers House.
Cranbourne Physio
13 Childers Street
CRANBOURNE VIC 3977
Ph: 03 5996 1688
Meet Our Team
Opening Times
Physiotherapy
Monday - Friday 9:00am - 7:00pm
Saturday 8:30am - 12:00pm
Pilates
By Appointment
Redcord
By Appointment
Hydrotherapy
Monday 1:30pm - 2:30pm
Friday 1:30pm - 2:30pm
Podiatry
Monday - Friday 9:00 - 7:00pm
Massage
Mon and Tues 1:00pm - 6:00pm
CoreCARDIO
Wednesday 6:30pm
Saturday 8:00am
History of Cranbourne Physio
Cranbourne Central Physiotherapy and Sports Injury Clinic began over two decades ago as a single physiotherapist working out of a room on the other side of Childers Street. The clinic grew with its excellent reputation.
To cater for demand, the clinic added physios and other allied health professionals, moved into purpose built facilities in Childers House and for simplicity, shortened its name to Cranbourne Physiotherapy.
With a passion for people's health, physiotherapist brothers Dean and Scott Harrop now oversee the multi-disciplinary Cranbourne Physiotherapy clinic. The Cranbourne Physiotherapy Team of today proudly continues with excellence in health care.
Cranbourne Physio Charter
The enthusiastic and highly qualified team of health professionals and receptionists has one main aim: To exceed clients' expectations on quality of care and personal attention, in a relaxed and friendly environment.
Make an appointment
Contact us to make an appointment or to speak with the accommodating receptionists.
Vouchers
Cranbourne Physiotherapy Vouchers are a healthy and thoughtful gift for someone special. Arrange one for any of our services by contacting the clinic.
Brochures for our Services