Redcord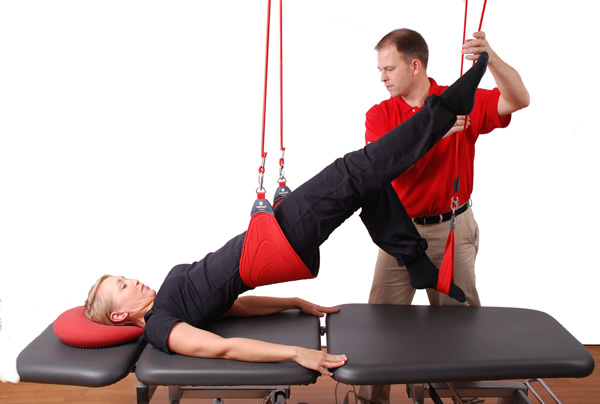 Redcord suspension training equipment and techniques have been researched and developed in Norway over two decades. They provide the link between injury, health and optimal fitness. Now available in Australia, this remarkable tool allows every body to benefit regardless of ability, ambition or injury. Cranbourne Physiotherapy is proud to be one of the first clinics in Australia to bring you this technology.
Training with Redcord equipment under your physiotherapist can prevent injuries, safely rehabilitate injuries, improve dynamic health and specifically optimize elite sports performance.
It has been described as "Pilates on Steroids'.
How does it work?
Redcord suspension exercises use body weight as resistance, in a closed kinetic chain. The exercises are multi-segment, three-dimensional and always involve underlying core control. Just like in real life.
This type of training enhances dynamic joint stability and muscle co-activation by stimulating the neuromuscular system.
Testing a patient's movement patterns with Redcord equipment offers the physiotherapist a flexible tool to identify and retrain functional muscle imbalances that may be present due to poor neural activation or pain.
Stimulating quiet muscles on the equipment can quickly improve painful functional movements by restoring normal neuromuscular activation. Research has proven neuromuscular stimulation remarkably effective in rehabilitating injuries - even chronic ones.
Therapeutic and corrective Redcord exercises are individually tailored, progressive and pain free.
Is it for Me?
'Redcord' in Norwegian means 'the common thread'. It has been researched and developed based on the fact that every body can benefit from Neural Activation to correct any weak link in movement patterns.
Redcord suspension exercises are effective and useful for anyone who would like to improve their daily function. The exercises are used by therapists, ordinary people and athletes world wide for rehabilitation, functional activity, injury prevention and performance training.
What are the Benefits?
Redcord can:
prevent injuries
help relieve pain
mobilize joints
strengthen muscles
restore correct movement patterns
develop balance and coordination
improve general fitness
specifically enhance sports performance
promote relaxation
What Conditions will Benefit from Redcord?
Whiplash
Back Pain
Sports Injuries
Chronic injuries
Balance/Coordination Problems
Shoulder and Arm Injuries
Hip and Leg Injuries
Osteoarthritis & Fibromyalgia
Weakness
Poor Core Control
Rehabilitation following fractures, joint replacement surgery, tendon repair and reconstructions
Fitness Enthusiast
Athlete requiring performance specific training
How do I start using Redcord for my Injury?
Redcord sessions are one-on-one with an expert Redcord-trained physiotherapist in the Cranbourne Physiotherapy gymnasium.
If you have an existing injury, your physiotherapist can assess your movement problems on the equipment and begin your therapeutic Redcord exercise program immediately.
Alternatively, you may request a normal initial consultation with a physiotherapist in a private suite. The physiotherapist can diagnose and treat the condition incorporating Redcord as a treatment tool.
Contact Cranbourne Physiotherapy and request either a Redcord appointment or a normal initial consultation with a Redcord-trained physiotherapist.
Can I use Redcord just to Get Fit or Improve my Sports Performance?
Yes! Training on Redcord equipment provides an excellent core and global muscle workout. A physiotherapist can also work with athletes on Redcord to improve specific movement patterns.
You can book individual Redcord sessions with your physiotherapist by contacting Cranbourne Physiotherapy.
Redcord is also featured in CoreCARDIO fitness classes that run twice a week at Cranbourne Physiotherapy. Bookings essential for this too.
Contact Cranbourne Physiotherapy on 5996 1688 or email us.
How much does it cost?
Individual Redcord Session rates:
| | | |
| --- | --- | --- |
| 30 minutes | | $80 |
| 60 minutes | | $150 |

*Redcord Sessions with a Physiotherapist attract health fund rebates.
Redcord can be used as a treatment tool within a normal physiotherapy consultation at no additional charge.